Handicap
Current standing for the 2019 Handicap
What is the handicap?
A 3.5 or 3.1 mile race against the clock and other club members, with start times handicapped based on your previous performance.
Why do the handicap
You get accurate times to chart your progress
It's sociable and you get to compare yourself with others, which provides useful pacing guidance for real races
You get to complain about your start time to the marshal for the evening
You can win a big prize at the Christmas party and earn the respect or suspicion of your club friends
It's a handicap which means it is handicapped to your time, so it is totally fair, so you can take on the rest of the club
You get faster if you do them, and that's got to be a least partly the point.
The handicap takes place on the second Wednesday of each month (except January), just turn up at the usual time and collect a race number from the timekeepers.
Winter Route
Our winter route is a 3.5m circuit on the roads around the perimeter of Beckenham Place park, starting and finishing outside Beckenham Sports Club.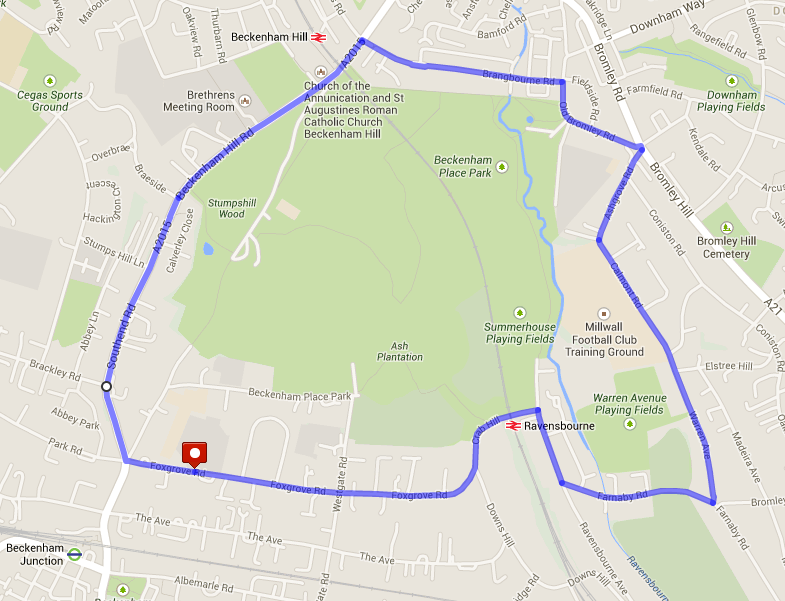 Summer Route
Our summer route is 5Km (3.1 miles) with 2 x 2Km laps within Beckenham Place park, and finishing outside Beckenham Sports Club.