Thank you to everyone who took part today in the blustery and showery conditions.
Well done to Stephan Wenk of Maidstone Harriers on an excellent winning time of 33:34, and to Tunbridge Wells Harriers for taking both team prizes. Links to the full results are after the winners summary.
Photos from the race are on Flickr.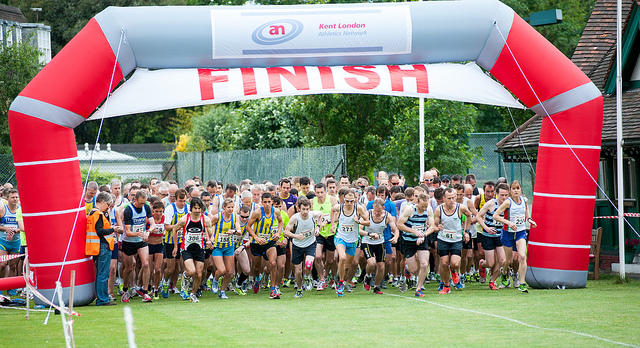 Men Overall
1st: Stephan Wenk (Maidstone Harriers) – 33:34
2nd: Ben Louch (Dartford Harriers) – 33:43
3rd: Dan Watt (Tunbridge Wells Harriers) – 34:28
Men Veteran O/40
Craig Chapman (Tunbridge Wells Harriers) – 36:26
Men Veteran O/50
Chris Desmond (Sevenoaks AC) – 39:12
Men Veteran O/60
Mark B Taylor (Tunbridge Wells Harriers) – 43:11
Female Overall
1st: Maria Heslop (Paddock Wood AC) – 38:14
2nd: Alice Heather-Hayes (Tunbridge Wells Harriers) – 38:35
3rd: Andrea Pickup (Dulwich Runners) – 40:50
Female Veteran O/35
Kelly Mcentee (Heaton Harriers) – 44:43
Female Veteran O/45
Ola Balme (Dulwich Runners) – 41:59
Female Veteran O/55
Janet Lenton (Orpington Road Runners) – 46:43
Mens Winning Team
Tunbridge Wells Harriers (Dan Watt, Craig Chapman, James Absolon)
Female Winning Team
Tunbridge Wells Harriers (Alice Heather-Hayes, Kimberley Deeney, Jillian Holford)
Full results
Google Spreadsheet – 2013 Summer 10K – Results
PDF – 2013 Summer 10K Results